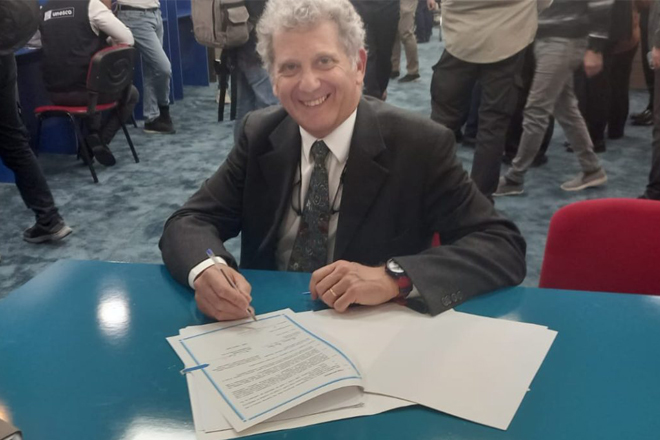 Iraq – In the presence of the Director General of UNESCO, Audrey Azoulay, the Representative of UNESCO in Iraq, Paolo Fontani, the Iraqi Minister of Culture Ahmed Fakak, the Italian Ambassador in Iraq Maurizio Greganti, the AICS Amman Head of Office, Emilio Cabasino, the Rector of the University of Mosul Kossay Alahmadi and the Director of the university library, Sayf Al-Ashqar, the signing ceremony of the agreement for the "Restoring the Mosul University library" project was held on March 7, 2023.
This important project guarantees the optimal functioning of the university library for students and professors at the University, after the significant renovation of the premises, which took place thanks to the multi-donor fund managed by UNDP.
The library once housed more than a million books, valuable old manuscripts, and government publications. It was nicknamed the "house of knowledge" and as such was among the first institutions targeted by Daesh after the occupation of Mosul in 2014. It is our duty to stand together with the Iraqi people to make this "house of knowledge" accessible again and support the smooth running of its operations.
This project will make possible, among other things, the correct arrangement of the publications on the shelves, the archiving and digitization of new and pre-existing library references, the restoration, digitization and conservation of books and manuals, the strengthening of the skills with trainings to the benefit of the library staff to improve service delivery by providing an enhanced management system. We are confident that this will make a significant contribution to the preservation of Iraq's rich history and culture and will give impetus to the revival of Mosul's cultural and academic life.
The projects currently financed by the Italian Cooperation in Iraq have a value of almost 30 million euros for development initiatives and over 22 million euros for humanitarian assistance and resilience interventions, for a total of over 49 million euros. In addition, Italy plans to donate around 30 million euros over the next three years, through AICS (the Italian Agency for development Cooperation).
Across sectors, education support has been mainstreamed in our portfolio, both in collaboration with Italian NGOs and multilateral partners.
In partnership with UNESCO, we are currently engaged in a tripartite program with Qatar to support primary education and return-to-school activities for dropout boys and girls in the Salah al-Din, Babil and Baghdad areas (2 million euros to date). The results have been encouraging, although greater engagement by the authorities towards the specific issues of out-of-school children and rural schools would lead to a stronger and more sustainable impact: for this reason, we are exploring the possibility of continuing to support this objective.