Amman – The Director with AICS staff members in Amman.
The visit of the director of AICS Luca Maestripieri to Jordan and Iraq took place from 23 to 26 April 2023.
In Amman, the director had the opportunity to appreciate the management of development and humanitarian aid initiatives of the office: around 50 for 80 million euros in Jordan and over 30 for almost 45 million euros in Iraq.
In the meetings with the CSOs, in both countries, the dialogue hinged on the humanitarian-development-peace nexus.
In fact, in Jordan, almost 7% of the total population – of about 10.5 million – is represented by refugees from various countries in the Middle East and Africa; about 1.3 million people come from Syria alone. There are 1.2 million displaced persons and refugees in Iraq, of whom Syrian refugees are almost 22%. 178,691 are housed in reception camps that remain open mostly in Iraqi Kurdistan (25 camps out of the 26 currently functioning).
In Baghdad, the new AICS Amman programme office was opened, located at the premises of the Italian Embassy, where the constant presence of an expert is foreseen as well as the possibility for the entire Iraq team to operate in the capital.
The program continued with a visit to the premises of the project in support of Christian minorities by promoting their professional training.
During a working lunch organized at the Embassy, the director met representatives of ICRC and UN agencies supported by AICS, who expressed their appreciation for Italy's contribution in support of the Iraqi government and people.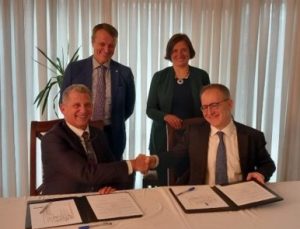 Baghdad – L. Maestripieri, K. Grazia, E. Cabasino and Amb. F. Greganti at the moment of signing for the opening of the AICS program office.
In Iraqi Kurdistan – where AICS Amman has been present with an office in Erbil since 2019 – the Director had bilateral meetings with the Minister of the Interior and the Minister of Labor and Social Affairs, to talk about the presence of Syrian refugees and Iraqi displaced persons and the shelters for women who have survived violence, an initiative for which Italy's support is particularly appreciated. Field visits took place to one of the projects aimed at the financial self-sufficiency of Syrian refugees and to one of the toll-free number offices to combat violence against women.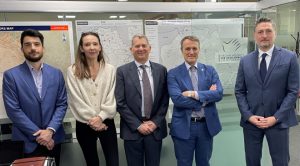 Erbil – From left to right: Cons. M. Camerota, Dir. AICS L. Maestripieri, Owner E. Cabasino, Team Leader L. Cicinelli and program officer R. Bonu.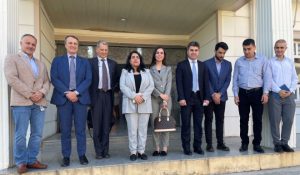 Erbil, sede numero verde contro violenza sulle donne del "Directorate Combating Violence against Women – DCVAW" del Kurdistan.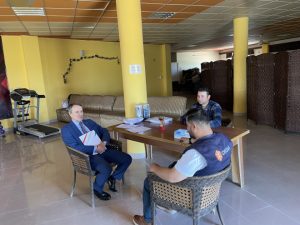 Erbil – the AICS Director in the gym of Chiya Musa a Syrian refugee